---
(254) 747-1297
Call or Text

Online counseling sessions are available via
​FaceTime and Zoom


---
---
Individual Adults, Couples, Families, Children and Teens
I am a Licensed Professional Counselor providing therapy for adults, children, couples and families in and around the Mexia area and online. My office is located in a unique environment, blending the best of a secluded, rural retreat setting, with faith-based, solution-focused therapy.

Working in collaboration with clients to discover ways to utilize their unique combinations of gifts and strengths, my approach is aimed at helping the client bring about new hope and direction, restore relationships, or simply get back on the right track.

While it's true that we can't always control what happens to us, and we certainly can't change others, we do have the ultimate say in how we respond to situations in our lives that are challenging or painful. Facing hardship and pain is a normal part of being human, and we all need help from time to time. It's how we approach life's uncertainties that often makes the difference between surviving and thriving.


---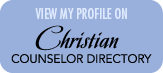 ---
Pay or Prepay for Sessions